Only 2 minutes' walk from Kyoto-Tower in front of Kyoto-Station Central-Exit.


Staff Mayu
COVID-19
KYOTO TOWER shop is temporarily closed from April 12, 2021 for a while.
Access
Basic Information
| | |
| --- | --- |
| Traffic | 2 minutes' walk from Kyoto-Tower in front of Kyoto-Station Central-Exit. |
| Address | 522 Shiokoji-cho, Shimogyo-ku, Kyoto-shi 600-8212 |
| E-mail | tower@kyoto-option.com |
| Phone | +81-75-354-5468 |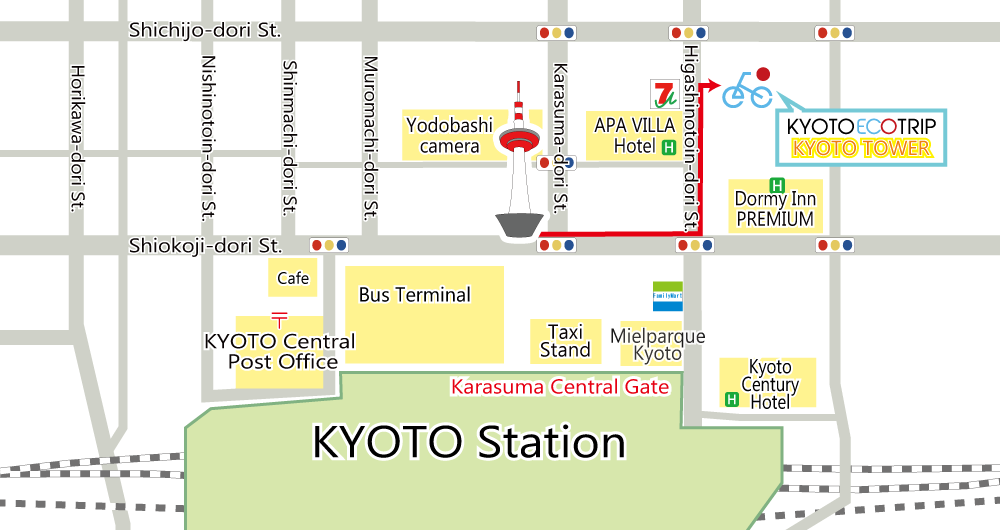 Go out from Central Exit of Kyoto station.
Walk to Kyoto-tower and turn right and walk along Shiokoji street.
Turn left at the first traffic-light (Higashino-toin street).
Our shop locates at the opposite side of Seven-Eleven.
Opening Hours
From 9:00 am to 6:00 pm
Basic Time (1day)
Basic Time.
From 6:01 pm to 10:00 pm
Late Return
As a Late Return charge, ¥400 will be added.
Bicycle Lineup
About The Use Time
The basic use time is from 9:00 to 18:00. If you would like to use bicycles outside of the basic time, please take "Late Return Option".

City Cruisers
B type (3 gearshifts)

1,100 yen

The most popular bicycle at our shops.
Electric Assist Bicycles
E type (Electric)

2,000 yen

Stylish minivelo bicycle with a battery.

EA type (Electric Long)

2,200 yen

Bicycle with a large battery. Good for long trips.
With Child seat
EM type (Electric with Child)

2,500 yen

Good for trip with your child (weight under 22kg).
Option Lineup
Original Map
Cycling Map

FREE

The helpful cycling map written in English will be provided for free!
Using Time
Late Return

¥400

You can prolong the using time until night time.
Return Place
Return at Your Hotel

¥500

Available at hotels which have a parking lot for bicycles
Luggage
Luggage Storage

FREE

We can keep your luggage at our store while you are using bicycles.
Availability
For users of smartphones and tablets
Swipe the screen to the sides to see the entire table.

Last update on July 19, 2021 (8:43 am)

July 2021
Spec
Standard Bicycle
Electric Assist Bicycle
Electric Assist with Child
Type
B
E
EA
EM
Price
1,100
2,000
2,200
2,500
29
Thu
N/A
N/A
N/A
N/A
30
Fri
N/A
N/A
N/A
N/A
31
Sat
N/A
N/A
N/A
N/A
August 2021
Spec
Standard Bicycle
Electric Assist Bicycle
Electric Assist with Child
Type
B
E
EA
EM
Price
1,100
2,000
2,200
2,500
1
Sun
N/A
N/A
N/A
N/A
2
Mon
N/A
N/A
N/A
N/A
3
Tue
N/A
N/A
N/A
N/A
4
Wed
N/A
N/A
N/A
N/A
5
Thu
N/A
N/A
N/A
N/A
6
Fri
N/A
N/A
N/A
N/A
7
Sat
N/A
N/A
N/A
N/A
8
Sun
N/A
N/A
N/A
N/A
9
Mon
N/A
N/A
N/A
N/A
10
Tue
N/A
N/A
N/A
N/A
11
Wed
N/A
N/A
N/A
N/A
12
Thu
N/A
N/A
N/A
N/A
13
Fri
N/A
N/A
N/A
N/A
14
Sat
N/A
N/A
N/A
N/A
15
Sun
N/A
N/A
N/A
N/A
16
Mon
N/A
N/A
N/A
N/A
17
Tue
N/A
N/A
N/A
N/A
18
Wed
N/A
N/A
N/A
N/A
19
Thu
N/A
N/A
N/A
N/A
20
Fri
N/A
N/A
N/A
N/A
21
Sat
N/A
N/A
N/A
N/A
22
Sun
N/A
N/A
N/A
N/A
23
Mon
N/A
N/A
N/A
N/A
24
Tue
N/A
N/A
N/A
N/A
25
Wed
N/A
N/A
N/A
N/A
26
Thu
N/A
N/A
N/A
N/A
27
Fri
N/A
N/A
N/A
N/A